Home
Welcome to Eager Beaver WebWerx!
Home of the $300 website.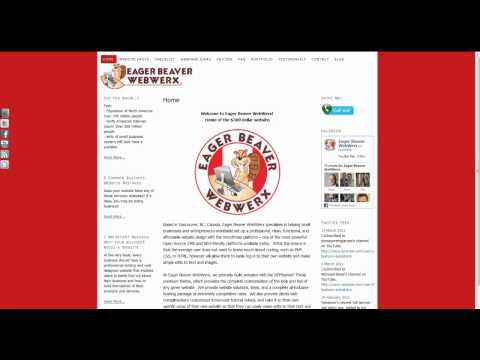 My name is Dick Low, and I specialize in helping small businesses and entrepreneurs worldwide set up a professional, clean, functional, and affordable website design with the WordPress platform – one of the most powerful Open Source CMS and SEO-friendly platforms available today.  What this means is that the average user does not need to know much about coding, such as PHP, CSS, or HTML, however will allow them to easily log in to their own website and make simple edits to text, images, and meta tags.
At Eager Beaver WebWerx, I primarily build websites with the DIYthemes' Thesis premium theme, which provides the complete customization of the look and feel of any given website.  We provide website solutions, ideas, and a complete all-inclusive hosting package at extremely competitive rates.  We also provide complimentary customized screencast tutorials for every client similar to this video, and tailor it to their own specific areas of their new website so that they can easily make edits to their text and images on their own without having to re-hire a webmaster to make one simple change, helping to save them money in the long run.
Did you know that 46% of all businesses in the world still don't have a website?  And of those that do have a website, roughly half of them are not even set up properly or have glaring issues, making it nearly impossible to find them on the internet through search engines, or show up improperly on common web browsers.
You've heard the saying, "First impressions are lasting impressions".  Try to avoid the pitfalls of some common errors that people make when they put together a website. What kind of common mistakes do people make?  Check out the 9 Common Business Website Mistakes for this important information.  It may help you project a good first impression to your visitors!
Contact me today, and find out how I can help you get your website off the ground properly and affordably at www.eagerbeaverwebwerx.com, home of the $300 website.